Get to know us on Instagram: LYDIA / SINDYCLEORA1
Instagram at the beginning
Normal conversation
WITH the city: OSLO
AVEC la ville: OSLO
Bingo!
Of course, I choose phone number
BIEN SÛR, JE CHOISIS LE TÉLÉPHONE
Mix of pictures / Mélange de photos
Shopping, animals
Les achats, les animaux
Tiens tiens!!!Here, hold on!!!
I'm not an expert but I learn everyday now
Je ne suis pas un expert mais j'apprends maintenant
A technique to know
Une technique à connaitre

Remember/souvenez-vous: OSLO
Indicatif régional 2: +47(2)
Find mistake/cherchez l'erreur!
TELEGRAM ON 15/12/22
WE GO
TELEGRAM ON16/12/22

PRESENTATION
Bingo!
between two sentences: "I'm doing currency trading in my spare time…
Entre deux phrases: je fais du trading sur les devises
Evasive answers!
Des réponses évasives!
Every day, in morning and evening: a good thought
Chaque jour, matin et soir: une bonne pensée
Today on 19/12/22
nothing special!
Aujourd'hui, rien de spécial sur Telegram
BEAUTIFUL PICTURES ON 19/12/22
DE BELLES PHOTOS LE 19/12/22
ALWAYS ACTIVE ON INSTAGRAM
TOUJOURS ACTIVE SUR INSTAGRAM
We discuss now with Telegram!
Nous discutons sur Telegram!
I asked for a picture from Oslo: nothing!
Je lui ai demandé une photo d'Oslo: rien
Discussion about family
Discussion au sujet de la famille
About my financial income!
Au sujet de mes revenus!
A new picture
Une nouvelle photo
Bingo: she spoke about trading finally! bingo, elle me parle enfin de trading!
A joke: no reaction
une plaisanterie qui n'a pas eu de réaction
between two plates, I continue my live story!
Entre deux assiettes, je continue mon histoire en direct !
About investing smoothly
à propos d'investissement, tout en douceur
I am interested!
Je suis intéressé!
I am awaiting for more infos.
j'attends plus d'informations
Discussion on 24/12/22
For info, temperature at OSLO: - 12°
Pour information, la température à OSLO:-12°
On 25/12/2022
Christmas Day in family?
Jour de Noël en famille?
ON 26/12/2022
WE GO?
On y va?
always the same process
toujours la même technique
she is ready to learn me!
elle est prête à m'apprendre!
on 27/12/22
elle insiste, et je la fais patienter.
She insists, and I make her wait
une belle photo, à Oslo??
A beautiful photo, in Oslo??
voilà la proposition!

Here is the proposal!
Je suis le malade (imaginaire)!
I am the sick (imaginary)!
En fait, je la fais patienter…
In fact, I make her wait...
happy new year / Bonne année
on 3/1/23: "do you have plans to do business tomorrow?
Le 3/1/23 : "avez-vous l'intention de faire des affaires demain ?
pas de réaction depuis mon silence!
No reaction since my silence!
mais toujours active sur instagram, elle regarde mes vidéos!
But still active on Instagram
She's watching my videos!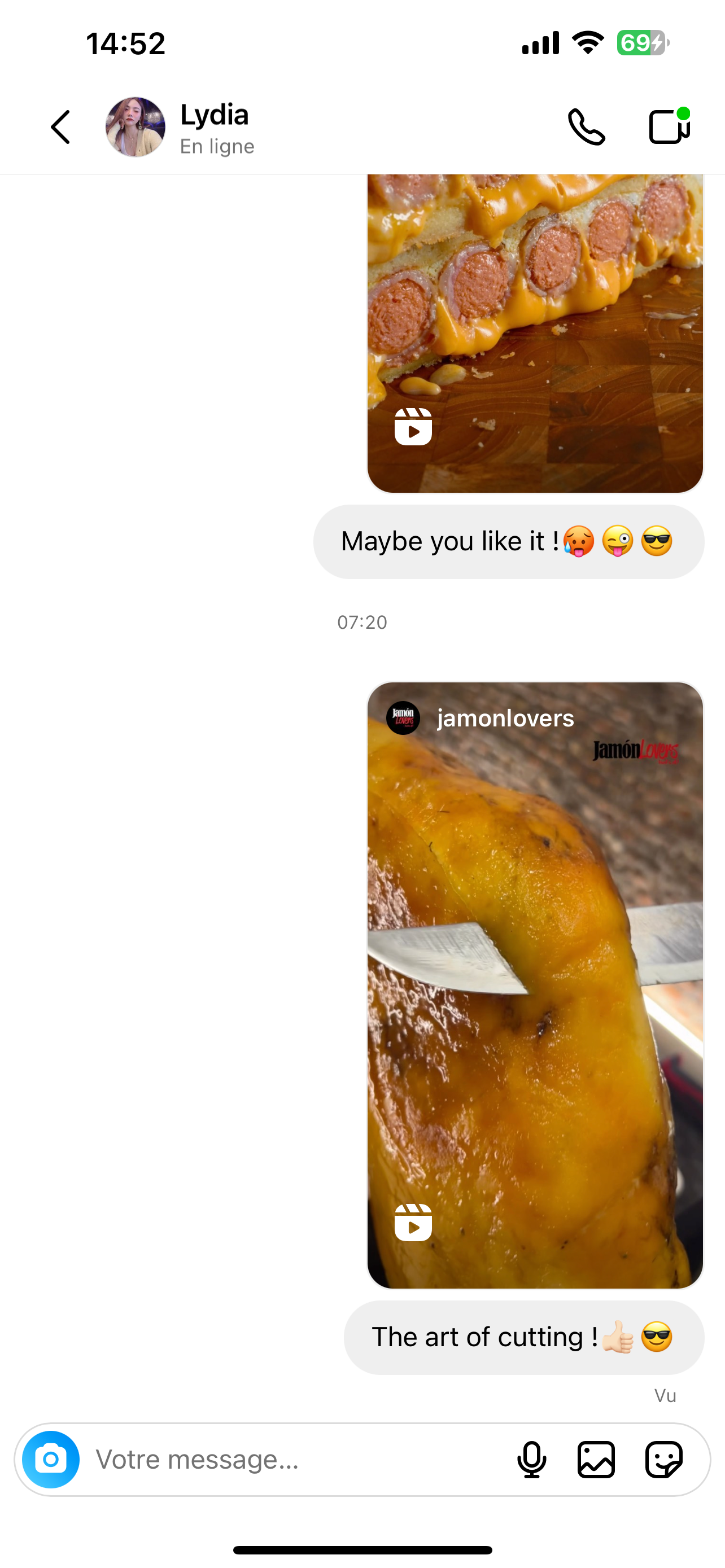 Want to know more?Vous voulez en savoir plus ?
Instagram:6/01/23
the first picture: surprise!
where is it?Vancouver
de la digue
Of the dike
I live at Oslo or Vancouver???
my research
Mes recherches
pictures free of rights
Images libres de droits
idem
Photographic procedure well in place
mode opératoire photographique bien en place
je venais aux nouvelles: comment ça va, quel temps fait-il à Oslo?
I came to the news: how are you, what's the weather like in Oslo?
quelques minutes après, je me recontacte et plus d'historique de nos conversations. surprise! Je la relance et voici sa réponse.
A few minutes later, I get back to you and more history of our conversations. surprise! I relaunch it and here is its answer.
le poisson est accroché! The fish is hooked!
on 9/1/23: first step
Le 9/1/23 : première étape
on 9/1/23: second step
Le 9/1/23 : deuxième étape
the proposal La proposition.
Discussion
Do you have time
IN CAR. EN VOITURE
HONEY! chéri!
Same photos for all girls
Mêmes photos pour toutes les filles
Clin d'oeil: à qui?
Wink: to whom?
she insists / elle insiste
On Instagram every day, more videos
Sur Instagram tous les jours, plus de vidéos
18/01/23
A lot of sun!
beaucoup de soleil!
Want to know more?
Vous voulez en savoir plus ?
on 24/1/23
today: on 25/1/23
I recontacted her!!!
Je l'ai recontactée !!!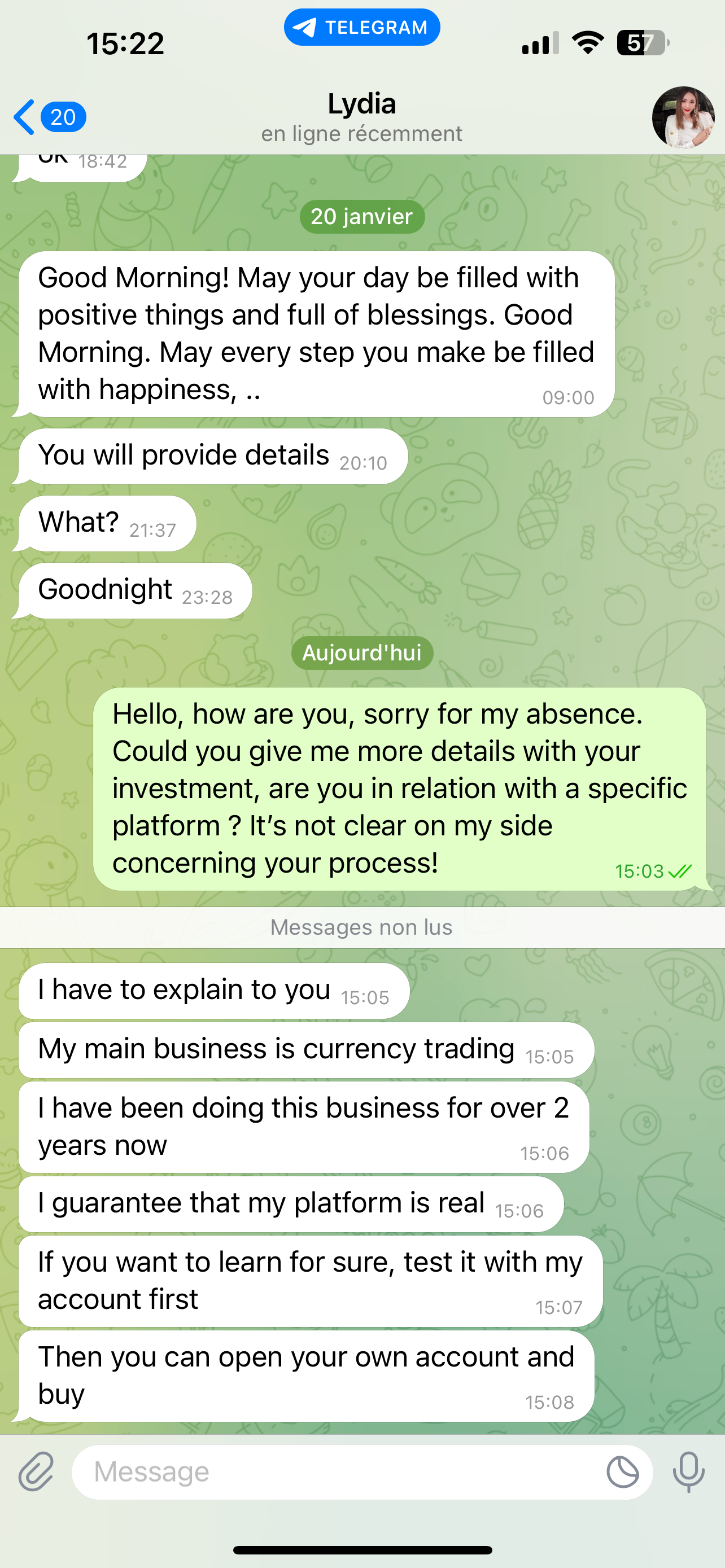 IN THE LIVE SUBJECT! DANS LE VIF SUJET!
in 25/1/23
THE TRUTH IF I LIE!
LA VERITÉ SI JE MENS!
PROOF OF ONE TRANSACTION
PREUVE D'UNE TRANSACTION
On 26/1/23: hello
Le 26/1/23 : bonjour
on 27/1/23: all the days on instagram, present on live very often!
Le 27/1/23 : tous les jours sur instagram, présent en direct très souvent !
NICE SHOE!
BELLE CHAUSSURE!


I CONTINUE TO FOLLOW HER ON INSTAGRAM!
EXPLANATION
ON THE RIGHT, YOU CAN SEE A SIGN: RIVERSIDE / California?

EXPLICATION
SUR LA DROITE, VOUS POUVEZ VOIR UN PANNEAU: RIVERSIDE / Californie?
Always active on instagram!
toujours active sur instagram!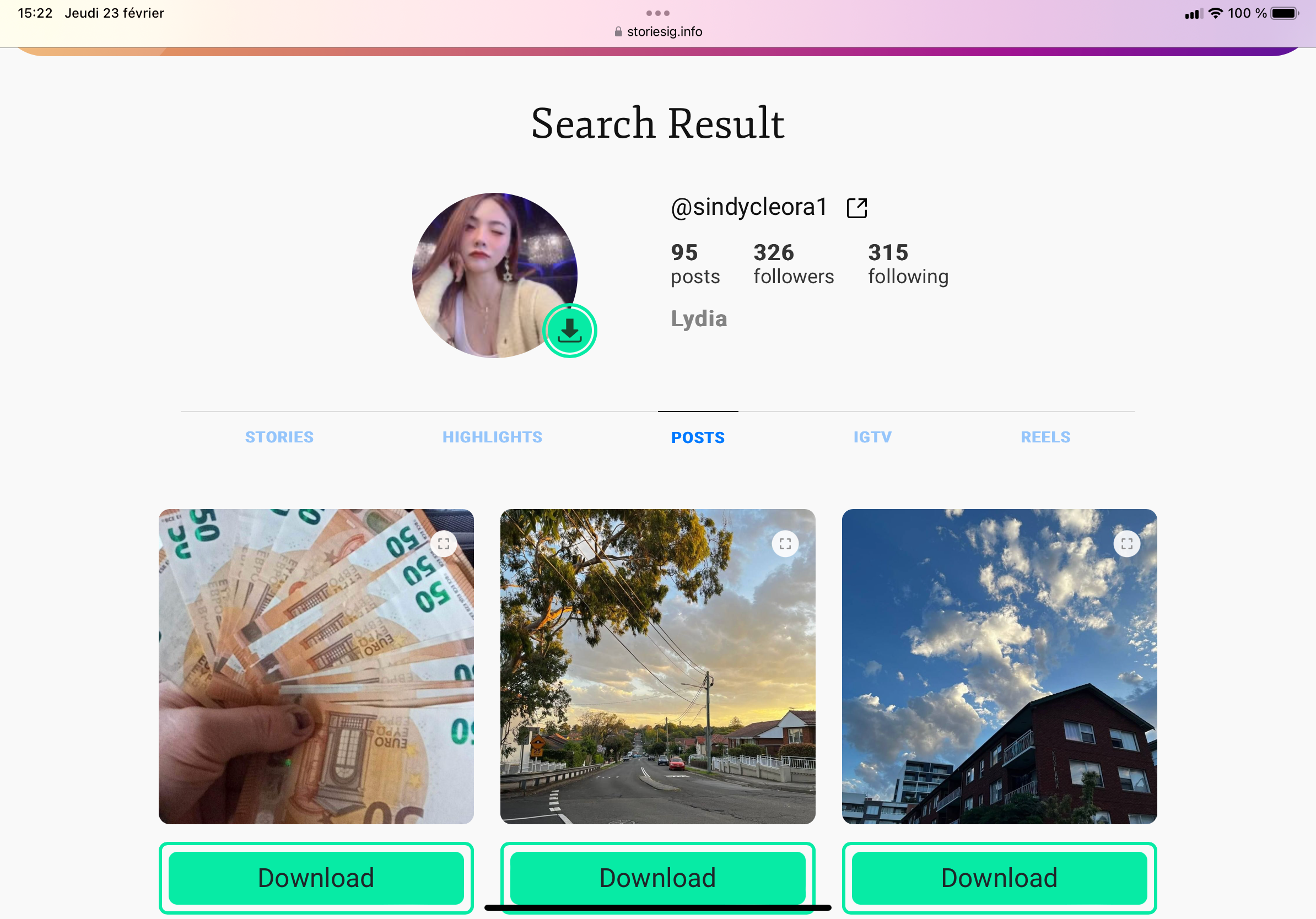 The good life La belle vie
Different pictures / Différentes photos
I reappear
EX LY DIA TO LUXURY_XYY
See the subheading